Present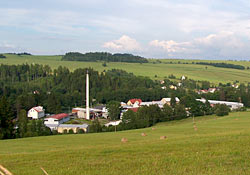 The company has followed up with the tradition of the factory and customizes high-quality machine tools and assembly and manufactures classical machines for foreign business partners mainly in the EU.

The total export of STELON Břidličná Engineering Works Ltd. exceeds 80% of its production. At present, the main manufacture programme of the company is the production of single-purpose machines and machinery for manufacturing lines in the automotive production (such as various preparations for manipulation on a robotized workplace including 3D shapes, conveyers and other components of the pressing devices).
Among our main customers belong renowned companies that are constructing and completing manufacturing and assembly lines for the international producers of automobiles in countries of the EU.

According to the drawing documentation, we are customizing different kinds of profiling, picking and packaging lines for the production and assembly of all sorts of products and other profiles and scrap shears for recycling of cardboard.

We also produce big worked weldments that serve the metallurgical industry. Weldments range up to 2000 x 4000mm.

Assembly is possible for lengths up to 30m.
In 2006, a radical change in organization took place. The new strategy is focused on expansion in the traditional production and development of existing potential and experience to maintain current customers. The factory produces small series for the needs of mechanical engineering, agriculture and forestry sector.

The company is using an information system ITING for the production control and scheduling.